Mayor de Blasio's sustainability and resiliency plan, One City: Built to Last, released on September 21, 2014, will make New York City more resilient to climate change and more sustainable by reducing greenhouse gas emissions 80% by 2050. This ten-year plan addresses carbon reduction, affordability, economic development, and public health in order to improve the quality of life for all New Yorkers.
 Buildings account for almost three-fourths of New York City's green house gas (GHG) emissions. In order to mitigate our impact on climate change, it is crucial that NYC focuses on this sector. The United Nations believes that large urban centers must reduce their GHG emissions 80% below 2005 levels by 2050 in order to avert the most dangerous impacts of climate change. New York City is one of the largest urban centers to commit to an 80x50 plan, and its experts in architecture, engineering, research, finance and real estate are well prepared to meet this challenge.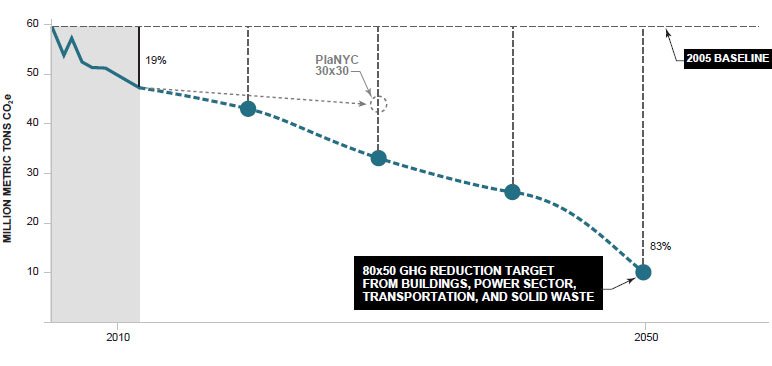 Image courtesy of OLTPS, 2014 
SOLUTION
In order to reach 80x50, the city must upgrade its buildings to be more energy efficient and use renewable sources of energy. The City will follow the following guiding strategies: 
Lead by example 
Empower New Yorker to take action
Hold New York City's buildings to the highest energy performance standards
Ensure benefits are shared by New Yorkers in every neighborhood 
Use data, analysis, and stakeholder feedback to drive the approach
GOALS
The plan lays out very high-reaching goals for New York City.  GHG emissions must be reduced by 35% over the next decade. To reach 35x25 the City seeks to:
Make efficiency improvements in every City-owned building and install 100MW of renewable power
Implement leading edge performance standards for new construction
Make interim energy target for buildings through voluntary reductions and new regulations
POLICIES & PROGRAM
The de Blasio administration has already begun implementing initiatives to reach the plan's goals.
These include:
Retrofit Accelerator
 A key part of the mayor's program is the "Retrofit Accelerator". This initiative aims to assist 20,000 buildings, or 15% of NYC's square footage, with water and energy efficiency upgrades. The program will also provide streamlined information about available financing, workforce development, and increased demand for energy services. The building energy exchange is proud to be an active part of this new initiative, providing workforce training and expanding interest in energy efficiency.
Taken together, the initiatives outlined in this plan are expected to reduce GHG emissions from the energy we use to heat, cool, and power our buildings by roughly 3.4 million metric tons of carbon dioxide equivalent. They are also expected to create roughly 3,500 construction-related jobs, provide training for more than 7,000 building operators and staff, and generate $1.4 billion in annual cost savings for New Yorkers.